Experience sanitation from Sanimood
A unique experience with every toilet visit
By providing a fun experience with every toilet visit, you ensure that the senses of visitors, employees and colleagues are stimulated in a positive way. This is already being done at several companies and stores in the Netherlands, such as IKEA, Sense Company and Eindhoven Airport. We make sure that the toilet experience keeps visitors in the mood of the company. For example, you can find the most beautiful images of airplanes on the toilet at Eindhoven Airport and the corporate identity of IKEA is carried through in the toilet. Also go for a unique toilet experience and contact us without obligation.
Get in touch
A real experience for all the senses
A pleasant restroom experience goes beyond an inspiring print on the wall. We complete the experience with soothing music, a pleasant scent and interactive mirrors on which, for example, calendars or news items can be displayed.
Custom solutions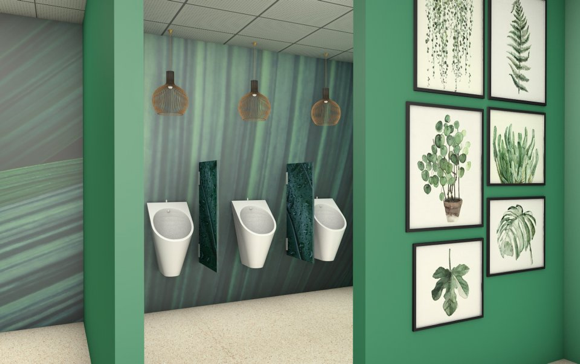 Atmospheric experience in Ziggo Dome
For Ziggo Dome we had the opportunity to create a design that has everything to do with music. During concerts and events it is often somewhat dark in the hall, so we did not want to work with too many light colors and lighting in the toilet.
We chose to carry the music theme through to the restrooms. Using life-size pictures of guitars, DJs and singers, we were able to extend the experience from the venue to the restroom.
See the success story here
How do we create experience in your toilet?
We can also create a fun experience in the restroom for your organization. We work for many different companies and come up with a new design each time. This way, visiting the toilet at your location will be a fun experience for everyone!
Discover our Sanimood products
Let our expert convince you
Want to know Sanimood's strength and what we have in store for your plumbing needs? There's no one who can tell you that better than one of our experts!