Experience sanitation from Sanimood
Turn your restrooms into a complete experience
Relaxing is important not only for your employees, but also for your customers. After a long journey, they are often the first to visit the restroom. Sanimood ensures that they are welcomed with a surprising experience and that they immediately get a good picture of your company. We do this by transforming your washroom into something unique. Contact us without obligation and turn your washrooms into a complete experience as well.
Get in touch
Discover our Sanimood products
From A to Z
Sanimood is involved in all its projects from design to realization. Thus, we create and install an original design that is durable and 100% custom made. To complete the experience, we also offer SaniSounds and SaniMoments. With SaniSounds, for example, we complement a wall covering of a beach with the sound of the rushing sea. And with SaniMoments, we add a pleasant aroma that allows you to enjoy a fresh breeze. It is almost as if you are really relaxing on the beach.
Custom solutions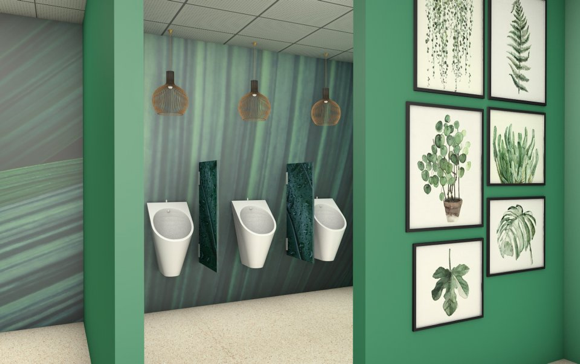 Personal toilet experience
Sanimood has already been able to enhance several companies and stores in the Netherlands with appropriate toilet experiences. Take for example IKEA, Koninklijke Bibliotheek and Eindhoven Airport. With every visit to the toilet here, you are immersed in the brand, which ensures higher customer satisfaction. Employees also find peace of mind when they take a short break. 
Wondering what we come up with for you? Contact us without obligation and go for a unique restroom experience that totally suits your business.
Get in touch
Let our expert convince you
Want to know Sanimood's strength and what we have in store for your plumbing needs? There's no one who can tell you that better than one of our experts!