Go sustainable in your restroom with Sanimood
Special materials for special areas
Because our materials are durable and 100% custom made, they last for decades. We do not use PVC while renovating toilet rooms and we apply LED lighting throughout. All this without having to make major interventions in the existing spaces. As a result, the renovation is quick and easy. The panels we use contain an antibacterial and protective coating for which they last extra long and are even easier to clean. Because of these special materials, as much as 30% less cleaning agent is used than usual. To further improve the sustainability of our spaces, we use water-saving faucets and toilets. Even the urinals are sustainable by not requiring the use of water.
Feel free to contact us and find out how we can make your washrooms sustainable in no time.
Get in touch
Lout-proof toilets
When you think of public restrooms, you often think of the beautiful "decorations" people leave behind with a marker or graffiti. In Sanimood's restrooms, these forms of vandalism don't stand a chance. Because a lot of attention has been paid to the design of the space, visitors are more inclined to leave everything alone. Should some scribbles nevertheless be left behind, we have the solution. By using high-quality materials that are scratch-resistant and have a special coating, these sketches can be polished away in no time. So you know you'll always have a sleek and clean restroom.
Sustainable toilets at Eindhoven Airport
In 2015, Sanimood made Eindhoven Airport's restrooms fresh and sustainable. Since then, over 1.5 million visitors have used the restrooms, but there is little evidence of that. The washrooms still look exactly the same because of the protective coating and good maintenance. Even large, heavy suitcases have not been able to cause scratches or dents. All this has caused the reviews to go from a 5.8 to a 7.3!
Read success story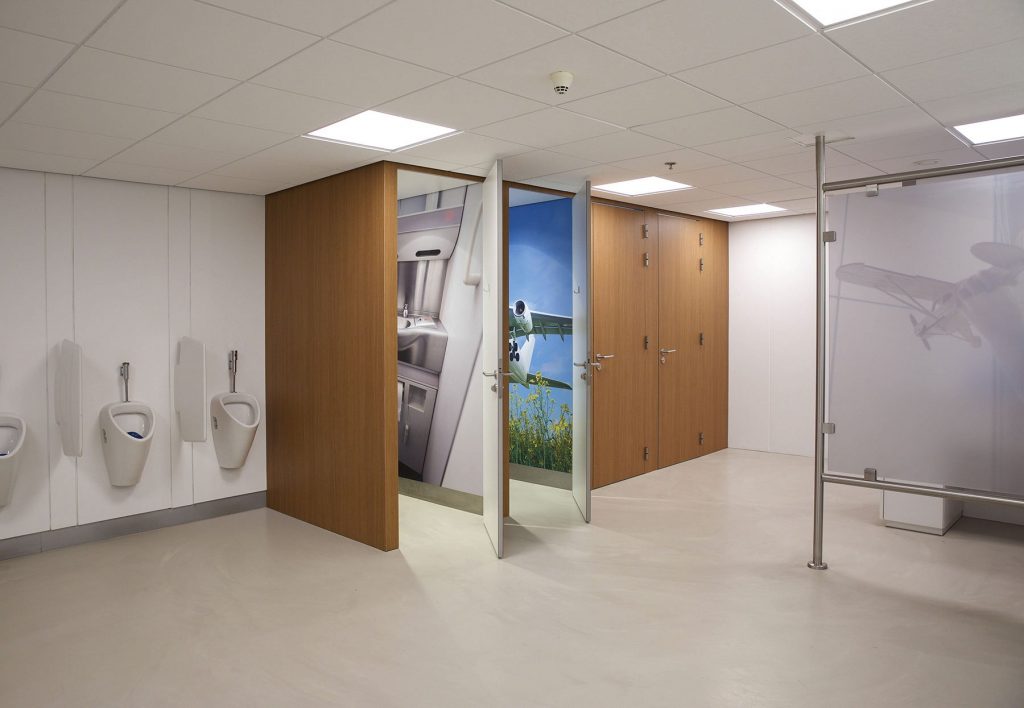 Discover our Sanimood products
Let our expert convince you
Want to know Sanimood's strength and what we have in store for your plumbing needs? There's no one who can tell you that better than one of our experts!