Hygiene and experience
For some entrepreneurs it is a little less exciting than for others: a ZZP'er will worry about it less than a hospitality magnate. Still, the layout and decoration of the restroom is something to think about when you are considering (new) premises. Whether you are with a team of 5 or 50 employees, whether you are receiving guests or not. You will have to do something with the restroom in your building. For some business owners, hygiene is the most important thing; a restroom should be easy and quick to clean. For the other business owner, the very experience in the restroom is hugely important. What if we told you now that at Sanimood you don't have to choose between the two?
The perfect experience with your brand
When people think of your brand, they get a certain feeling about it, a certain association. We conveniently assume that the people who go to the restroom in your building have a positive feeling about your brand. Therefore, you want them to be able to retain this feeling in the restroom. You don't achieve that by having your logo on every tile and mirror. At Sanimood, we ensure that this feeling is subtly included in the construction of your restrooms. For example, at Eindhoven Airport we have used colorful vacation photos on the walls in the toilet, and at Ziggo Dome you can see photos of a musical performance adorning the wall. Tailored with the right subtle music and a pleasant scent filling the toilet, this creates a positive experience that perfectly matches the brands.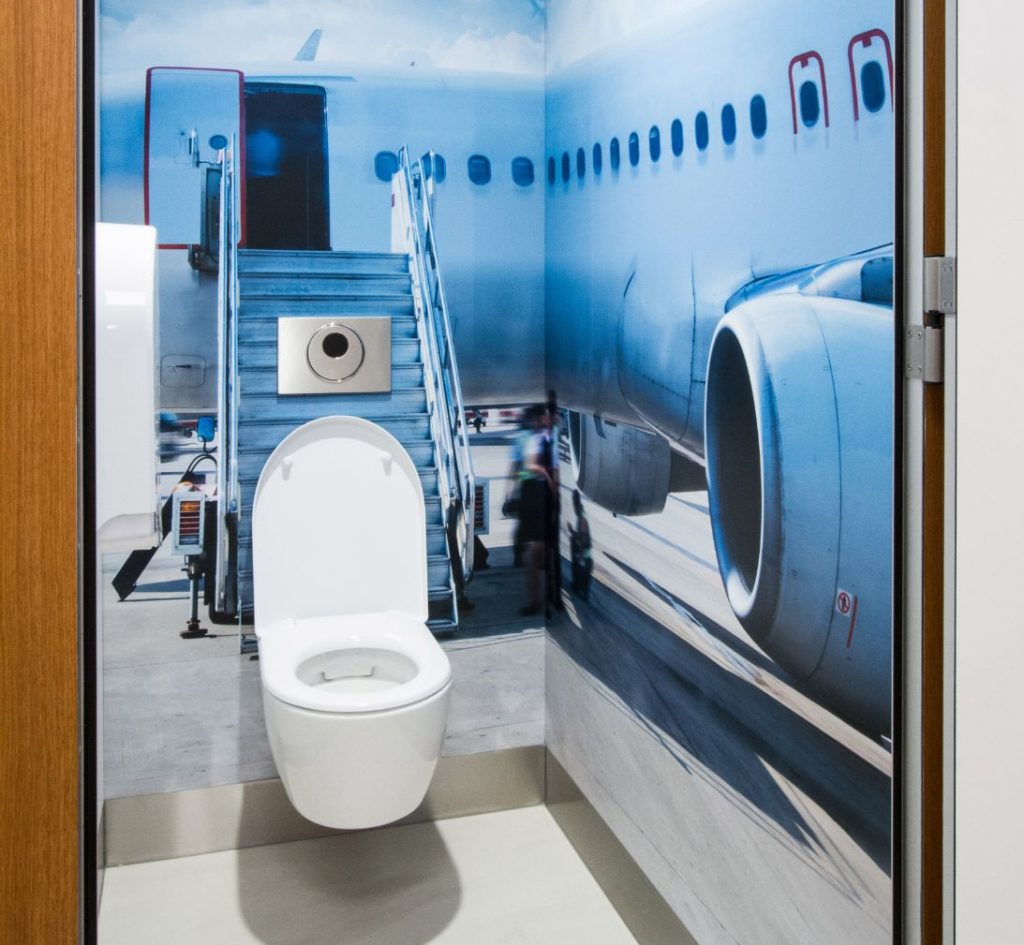 An inspired employee counts for two
Visiting the restroom is often a moment of rest for employees. A moment away from the computer or the store and a moment for yourself. With the right experience on the toilet, someone can recharge during a toilet visit to get back to work. At Sanimood, we know exactly how to inspire people and make them (unconsciously) enjoy the tranquility of the toilet.
A hygienic toilet will subconsciously give many people a positive feeling about going to the toilet, and this will allow your employee to really unwind. This may sound crazy, but let's rephrase it. Have you ever been in a restroom where you first had to look for a toilet that looks and smells hygienic? Chances are you have. Because you open several cubicles in your search for that one toilet that does smell fresh, is not filled with the big message of your predecessor and also has enough toilet paper, your head does not have the opportunity to 'go off'. The moment for yourself, to unwind on the toilet has unfortunately failed....
At Sanimood, we've come up with solutions that make sure people don't have to search for that one clean toilet. Using automatic odor diffusion, lout-proof walls, antibacterial coatings, subtle soothing music and more, together we achieve the ultimate toilet experience. We are happy to tell you more about this in a personal conversation.